Carpet Cleaning During COVID-19 throughout Bristol.
The Government has confirmed that we can continue to work in customers homes to carry-out services, this includes cleaning services, including carpet cleaning, upholstery cleaning and rug cleaning.
During this still unprecedented time, brought upon us by the Coronavirus COVID-19 pandemic, Proclene are continuing to provide our services to the best of our abilities throughout Bristol & South Gloucestershire, whilst ensuring 100% safe working procedures and practices to keep you, and Proclenes' technicians safe.
19th April 2021 update.
Workplace Testing Programme.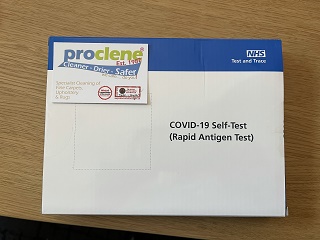 Daily COVID-19 Rapid Antigen tests that have been provided to us by the UK Government through the NHS Test and Trace, and all staff will now be tested daily.
We chose to use the government workplace testing programme because we feel that it is essential in preventing us from infecting others with COVID-19.
We have put in place, what we feel to be the correct measures to ensure your safety so that we can continue to provide our sanitising and cleaning services throughout the COVID-19 outbreak, including tier restrictions and any lock-downs, obviously subject to certain health and safety criteria being met.
Your safety as well as our own is our priority, and therefore you can be 100% assured that we will not put you at risk & we will not put ourselves at risk.
COVID Safe procedures you can expect from Proclene.
Testing - Daily Rapid Antigen Testing.
Face - Fresh medical grade facemask on every job.
Hands - Sanitised hourly - washed with soap and water throughout the day.
Distance - Minimum 2 metres.
Surfaces - Sanitise touch points and items after touching.
Equipment - Sanitised and cleaned after every job and at end of day.
Upon completion;
We will remove our tools and equipment from your property.
We will re-sanitise the same touch areas and any other areas that would have touched. We will notify you that we have finished, and request that you inspect the items cleaned to ensure that we have delivered everything that we promised, and that you are 100% delighted with our work.
Whilst you are inspecting our cleaning;
We will be outside sanitising our tools and equipment as we put them back in the van, this is so that they are safe for our next customer (just as we did for you).
Once you have confirmed that you are delighted with the cleaning we have carried-out, we will bid you a good day and leave you to enjoy the use of your freshly cleaned and sanitised carpets, upholstery & rugs.
Should you have any further safety precautions that you would like for us to have in place, please let us know.
Sanitised Carpet, Upholstery & Rug Cleaning
Those of you that have used us previously, you will know that all of our cleaning services have always been carried-out with the added use of antibacterial, antimicrobial and antiviral treatments being applied as standard. This will not change, however we will now apply a product that has been certified 99.99% effective against SARS-CoV-2.
Please note: Although It has now been confirmed that our Sanitising product is 99.99% effective against Coronavirus SARS-CoV-2 (the virus that causes the COVID-19 disease), It is important that we advise you that although we are very thorough in our cleaning processes we cannot guarantee 100% sanitisation.
We endeavour to do our utmost to provide you with the services that you are in need of.
Please stay safe and please follow the latest Government Advice.
Government Advice & Informational Videos
HAND WASHING
INFECTED SURFACES such as Credit Card Payment Terminals
Infected Door Handles
Infected Buttons on Pedestrian Crossings
Infected Buttons on Buses
Carpet & Upholstery Cleaning Review Ratings:
10
out of
10
based on
4196
reviews
All reviews below can be proven that they are Genuine.
Rug & Carpet Cleaning
As a returning customer of Proclene we can say that they are worth every penny, and we will definitely use them again. Greg was excellent and he provided excellent results, he worked hard, was very careful, and thorough, we are very pleased with the finished results, which were exactly as promised prior to starting. Proclene are trustworthy, careful, thorough and reliable. The customer care & service was also excellent. A reputable carpet cleaning company that we will definitely use again.
Date published: 04/11/2020
10
/
10
stars

Upholstery, Rug & Carpet Cleaning
These are people you can trust. We used Proclene to clean our carpets, upholstery and rugs, as well as stain removal and apply stain protection. The results were excellent, the customer service was excellent and there was always someone at the end of the phone. They arrived on time, gave a clear and honest indication of results I should expect and delivered exactly as they promised. We would use Proclene again, Greg was excellent.
Date published: 08/10/2020
10
/
10
stars