Why use Proclene Carpet Cleaning Services in Bristol?
So what does make Proclene different? what do we do that others don't?.
First and foremost Proclene's whole emphasis is on providing all of our customers with the very best in everything that we do, we don't just want you to be satisfied, this isn't enough for us. We want you to be delighted and feel very proud that you have chosen well in using Proclene Bristol to clean your carpets, upholstery & rugs.
No matter what we are cleaning, you will know exactly what to expect before we even start to clean anything, we will be 100% honest with you and if we do not deliver on our promise we won't charge you. We will not tell you that we can make something look fantastic and remove every single stain, and then leave you feeling disappointed that you used Proclene, we simply refuse to work in that way, it's misleading and wrong.
We want you to use us again and again, and to recommend us again and again. We also want you to know that you have a professional company on hand when needed. Our customers come first and always will.
UNBEATABLE GUARANTEE.
Proclene Bristol GUARANTEE that we will clean your carpets, upholstery and rugs to a standard that no other company can match and definitely cannot better, in-fact we are happy to be challenged in our guarantee of this.
We will also go one step further in guaranteeing that if another carpet, upholstery or rug cleaning specialist can make your carpets & upholstery any cleaner or safer after we have just cleaned them, then we will be more than be happy to refund every penny that we charged you and we will even refund you what they charged you.
We also guarantee that if you have just had your carpets or upholstery cleaned by another specialist and want to prove that we can't provide a better clean, put us to the test because if we can't get them any cleaner we simply won't charge you 1 penny.
All of this is GUARANTEED
Deepest Clean
Baby & Expectant Mum Safe.
Pet Safe.
WoolSafe™.
Non-hazardous.
Eco-Friendly.
NO Rapid Re-soiling.
FASTEST DRYING.
Triple Rinse™
What we do is unique, although it really doesn't need to be, this is because we take the time to Triple Rinse™ to rinse the soil from all sides of your carpet fibres, yes it takes longer, but you will see why we do it when you see the results, and you will also notice how much longer they stay cleaner for.
Why do we Triple Rinse™ ? well that's easy, put simply, a carpet fibre has a shape, it isn't a smooth flat surface and therefore it's impossible to remove not only the dirt & soil but also the cleaning solution residues from the fibres with just a single rinse pass.
Imagine the the carpet fibres are all directing towards the ceiling, and when you vacuum the carpet the fibres start to point towards you as you pull the vacuum towards you, now as you can imagine you are only vacuuming the soil from that top surface of carpet fibres. That is why you use a back and forth action when you vacuum your carpets.
Proclene do not only rinse and extract the dirt and the water from your carpet in a single backward pass, we rinse and extract on a forward pass and a side pass too, hence the name Triple Rinse™, hence why your carpets will stay much cleaner for much longer, and why you will need to have your carpets cleaned less often.
ISO 9001 &
14001

Quality Management Systems.

Proclene is the only company throughout Bristol to have gained ISO 9001:2015 certification for quality and service, and to have also gained ISO 14001:2015 certification for providing a proven environmentally friendly service. No other carpet & upholstery cleaning company have achieved these standards or are able to prove it.
We Care
We truly care about our customers, we will do whatever we can for them, we will do our absolute best to make everything as easy as possible for them. We care about the carpet & upholstery cleaning results that we provide you with and how you are treated.
We are Compassionate
We know that sometimes our customers may be feeling very emotional due to a loss of a pet or a family member, we understand and we are very happy to listen. You can also be assured that we will make everything as simple as we can for you, and we guarantee that we will not let you down, or add any further stress to you.
Superior Service .
We guarantee to take the time to provide you with a superior carpet and upholstery cleaning service that is thorough and as perfect as we can possibly make it. We will move all furniture as we NEVER EVER clean around furniture, We will reposition all furniture to the exact same place as it was, plus we will put protection in place to prevent wood dye bleeds and metal rust marks.
Spots and Stains.
We will never guarantee stain removal, but what we do guarantee is, we will use our 35 years of experience and skills, along with our patience to spend the time that is necessary to obtain the very best possible results without causing further damage. In some cases we will reactivate the stain to enable us to rinse it out even more.
Proclene will always provide a carpet & Upholstery cleaning service (sometimes known to as steam cleaning) that is second to none & Environmentally Friendly.
Award Winning Carpet & Upholstery Cleaning Service.
Which? Trader of the Month
Which? Trader of the Month for November 2016. We achieved this by putting our customers first and ensuring the very highest standards of cleaning, excellent customer service. Not forgetting all the reviews that we receive from all our customers.
You can be 100% certain that we won't let you down.
Recommended by Which? and very proud to say that we are. We undergo a yearly and very exhaustive approval process, and one of the things they do is, to speak with past customers chosen at random by a Which? Trading Standards Officer from our customer accounting system to see what they thought of the service we provided them with and if they thought we were providing value for money.
We use Micro-Splitting Technology
Micro-splitters do not contain detergents or soaps, and do not leave any harmful or sticky residue behind. They are Natural cleaning agents that break the bond between the soil and fibres in your carpet, sofa & rugs. They are proven 100% safe for babies, children and pets, and they are environmentally friendly.
The UK's Most Powerful Carpet Cleaning Machine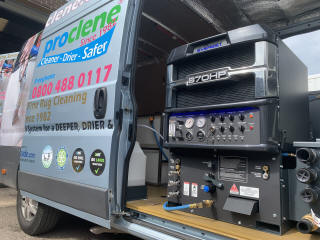 We use the very latest cleaning technology, for deeper cleaning and ultra fast drying, these are not like the rug doctor you can hire to do it yourself, our machines cost tens of thousands of pounds, in-fact our latest setup cost over £75,000.
Its has 3 times more vacuum suction power than any other truck-mounted carpet cleaning machine and has 6 x more suction than most portable machines. We really do leave you with much drier carpets and upholstery.
We constantly invest in technology and skills - Ensuring that we can always give you the very best service and provide you with the absolute best results. Also to ensure that you are not just happy, but delighted with our work. We never take training, knowledge and tools for granted.
Unique - 15 Steps to perfect carpet cleaning, we really will give your carpets & upholstery the best cleaning they will ever have........ guaranteed!
We are Approved, Recommended and Qualified by WoolSafe after undertaking examinations to ensure we are knowledgeable about carpet fibres and their construction, ensuring safe and thorough cleaning is always carried out.
Guarantee against Rapid Re-soiling, we are the only carpet cleaning company to offer this unique guarantee, and if we have cleaned an item that re-soils quickly, then, we will at no extra cost to you, revisit and re-clean the item.
We are carpet cleaners that Sanitise & Destroy Odours at no extra cost.
We KILL Superbug's for FREE!!!
MRSA, E-coli, Norovirus & many others are destroyed at no extra cost when we clean your carpets and upholstery.
We Destroy ODOURS for FREE!!!
When we clean your carpet or upholstery we destroy the bacteria that causes the odours at no extra cost.
Not Forgetting
We are Fully Trained in the use of cleaning agents,
We know what cleaning agent to use for each fibre, be it wool, viscose, cotton, polypropylene, acrylic etc.
We are Professionally Trained ,
We are NCCA Advanced trained members and spot and stain removal specialists as well as being WoolSafe trained and qualified Which is how we are able to be fully insured for over £5,000,000.
We are Fully Insured for £5,000,000 which includes Treatment Risk Cover, this means we are actually insured to clean your items, this is the main insurance which most carpet & upholstery cleaners tend to ignore, and you only find out that they were not insured to work on your items when it's too late. We are covered for this.
We have over 35 years experience.
We know fibres, weaves, dyes, processes, stains and much much more.
We wouldn't still be here if we weren't good at what we do.
We have been Cleaning Carpets & upholstery since 1982 just another reason we can get £5,000,000 public liability cover.
We will always do our absolute best to try to maintain 100% customer delight 100% of the time, see our customer reviews and if you wish to confirm any review, then just let us know.
We use Wool-Safe cleaning products that are completely safe for your carpet & upholstery.
We are Never late, we are there when we say we will be.
Proclene have the award winning combination to give you the very best carpet cleaning and upholstery cleaning service you will ever receive and it's fully guaranteed.
We have the Skills, the Training, the Knowledge, the right Attitude and the right Tools to clean your carpets and upholstery thoroughly and safely. Giving you the results that are better than what you can expect from a any other professional carpet cleaning company.
We are 100% Reliable, Honest and Trustworthy, we value our reputation and our customers. When it comes to carpet, upholstery & rug cleaning, no one works harder or invests more to provide you with the results that you deserve.
Guaranteed - 100%
Accurate Quotations
Results as Promised
Furniture moved by us
Experienced - 35 years
Customer Service - ISO 9001
Fast Drying - Guaranteed
Stain Removal Included
Sanitising Included
Eco Friendly - ISO 14001
Industry approved
Baby Safe
Child Safe
Pet Safe
WoolSafe Certified
NCCA Certified - ADVANCED
NCCA Qualified
Longest Lasting Clean - GUARANTEED
Manufacturer Approved Process
Punctual & Reliable
Reputable & Trustworthy
Vetted
Weekend Service Available
Fully Insured - £5,000,000
Card Payments Accepted
AMEX Accepted
Fair & Honest Prices
100% Total Satisfaction
FREE Advice
Printed & Detailed Receipt
Rapid Re-soiling
Sticky Residue
Surcharges for stains
Estimated Price
Harmful Chemicals
Grey marks Appearing
Days to dry
Bait & Switch
So, for Guaranteed carpet & upholstery cleaning in Bristol, you know that Proclene Bristol are really the only choice when it comes to quality and service.
Carpet & Upholstery Cleaning Review Ratings:
10
out of
10
based on
4196
reviews
Rug & Carpet Cleaning
After using Proclene I would not try another carpet cleaner. Which? gave them the name of Trusted Trader and this was quite right. They gave an honest and clear indication of results that should be expected and delivered them. I have used other companies previously but Proclene are beyond comparison because of the excellent technician. I never expected the customer service to be this good, good cleaning, courteous and excellent admin. I also never expected the cleaning to be this good, with 6 dogs I never expected the carpets to get clean again. As far as I am concerned I would change nothing to make my experience of using them any better. A reputable company whom I felt safe using and they arrived on time. Highly recommend.
Date published: 05/02/2020
10
/
10
stars

Carpet & Upholstery Cleaning
Proclene provided an all round excellent service. We have used other carpet & upholstery cleaning companies in the past, but Proclene were better because they provided better results. They gave a clear and honest indication of what we should expect before starting the work and they delivered on what they said. The results were excellent, the customer service was also excellent. They arrived on time, we felt safe having them in our home. A reputable company that we will definitely use again & we definitely recommend them.
Date published: 27/11/2019
10
/
10
stars