Builders Cleaning Services.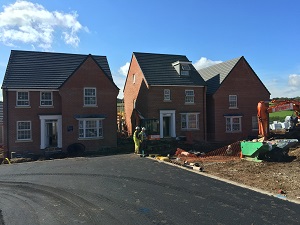 Proclene have been working in partnership with national house builders for many years, providing them with superior builders cleaning services throughout Gloucestershire and South Gloucestershire.
With a separate dedicated department for builders cleaning and a specialist crew of staff we have earned a reputation for providing builders cleaning services that are not only reliable and efficient, but also of the highest standards.
Are you or your sales team yearning to be able to present your buyers with a perfectly clean, well presented and great smelling new home?. Do they worry that when they open the door that the plot has not been cleaned to a minimum acceptable standard? hoping your buyer will not see any mess, dirt and dust, and that their new carpets won't have any mud or paint on them?.
Are you fed up with other cleaning companies promising you one thing, only to let you down with the level of cleaning standards or worse still, they are still cleaning when your purchaser is ready to move in?
Do you have issues with trades not being able to complete their work to the highest standards because the surfaces are not clean enough or too much dust and grit making for rough painted surfaces?
Well, we can help, not only will we not promise you one standard of clean and then deliver a lower standard of clean, we won't start off with excellent standards and gradually lower them. We will provide you with the same continued standards with both quality and customer service right through until the site is completed.
Our high standards of cleaning work better for your site managers, sales teams, and will impress your buyers.
Our premise is perfection, whereby, we believe that if you are going to do a job, do it perfectly and with pride, and that anything less is unacceptable. High standards are important to us, as well as to you and to your buyers. We remember throughout every step of our cleaning, that your customers aren't buying a used car, they are buying a brand new home costing them hundreds of thousand of pounds, therefore it needs to be perfectly clean.
Proactive Approach.
We take a proactive approach, by continually communicating with other trades to ensure that plots will be ready for us when we are booked in to clean them means there are minimal aborted visits and that we arrive with the right number of staff to ensure the plots are ready on time every time. If for argument sake the painters have told us that they will not be finished we will relay this with the site manager and see if we need to reschedule.
We will communicate with site managers the day before to ensure that the plots will be ready, and with sales to make sure that we have ample time to ensure the clean is completed in time for them to check the plots before your buyer arrives.
Never Understaffed.
With contracts ranging from just 50 plots and upwards of 150+ plots we will work tirelessly to ensure that your deadlines are met, and that our standards never wane.
To ensure we maintain our high standards, excellent customer service and are able to provide the required staffing levels to get the cleaning done on time, every time, we do not take on contracts beyond our capabilities and we have access to additional staff should it be required.
We guarantee that we will provide you with the highest standards of cleaning, on time, every time, and ensure that your buyers are delighted in the cleanliness of their new home.
BICSc Corporate Member
As members of BICS the British Institute of Cleaning Science you can be sure that we are at the forefront of advanced cleaning processes and cleaning chemicals. This ensures that we can provide you with continued high standards, and that we are up to date with all legislation.
Dedicated Builders Cleaning
Our specialist builders cleaning teams are fully employed by Proclene, fully trained in every aspect of their work, including Health and Safety. They are amazing at what they do, and what they will achieve for you, they clean very efficiently, thoroughly and of course very safely.
When it comes to sparkle cleans, these will be carried out to exceptionally high standards, we will ensure that your purchasers are, not just happy with the cleanliness of their new home but delighted at how clean their new home is and how great it smells. With the sparkle clean we also sanitise all hard surfaces with an antimicrobial leaving the whole home looking new, smelling great and totally safe.
Re-cleans are carried out just as thoroughly as the sparkle clean, ensuring all home tours are pleasing for your purchaser, aiding in an efficient completion, as well as helping the CML certification to run smoothly.
Our Build cleans are extremely thorough, ensuring trades are able to do their remaining tasks efficiently, also aiding in producing a better finish for some of the trades that require surfaces to be as clean as is virtually possible. Site managers find it easier to spot snags before the customer home tour which results in a much better customer experience for the purchaser.
Areas we provide Builders Cleans.
We provide our Builders cleaning services in Gloucester, Cheltenham, Stonehouse, Stroud, Newent, Coleford and Lydney we also operate throughout most parts of Gloucestershire, South Gloucestershire including Yate, Thornbury and Filton, we also work in Blunsdon, Swindon, as well as parts of Herefordshire and Worcestershire.
Weekly Show home Cleaning.
Sales offices and show homes are the store front to your business, and Proclene know how important the cleanliness and shininess of these are for you to showcase what you have to offer any potential buyer. Even if your sales areas have high footfall, we can ensure that your showhomes are kept looking pristine at all times.
Show home Carpet Cleaning
We are also able to provide you with the very best carpet cleaning to keep your show homes and sales offices in tip top condition. Our carpet cleaning is the most thorough in the industry, carried-out by professionals with 40 years' experience and we are the only company in the UK to have the most powerful machine in the industry, this is why your carpets will be ready to use within 30 minutes after we have finished cleaning them.
Site Welfare Cleaning
Some sites require weekly cleans, some will require daily cleaning, whilst other sites will require fortnightly cleaning of the site welfare facilities including the site managers office, canteens, dining rooms, toilets, wash rooms and drying rooms as well as meeting rooms. Whatever your requirements are, you can be sure that Proclene will take just as much pride in the level of cleaning as we do with your build cleans and showhomes.
Health and Safety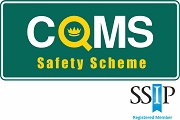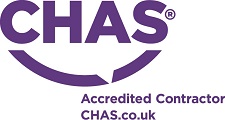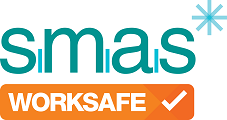 In todays age of construction site safety, as well as rules and regulations, we ensure that our staffs' safety procedures, as well as your site safety rules are adhered to.
Proclene are a SMAS, CHAS and CQMS accredited and all staff are CSCS card holders, all staff have taken the IOSH safety training courses, we also provide continually on-going toolbox talks that cover every aspect of their works including COSHH, Fire Safety, Manual Handling, Working at Heights plus many others.
We don't just supply you with the Health and Safety documentation that is required by law, we actually educate all of our staff to understand the reasons and importance of the documents, what it means, how they should use it in their works, and how to interpret and implement it.
Just as we take great pride in our work, we'll take the same great care in safety on your sites.
5 Star HBF Award
During December 2019 we completed 67 plots ready for customer hand-overs on the 18th Dec, with the majority being completed within the last 3 days. Each plot averaging approx. 120m2 we got the cleaning done, to spec and on-time, in-fact the standards of clean that we provided helped the developer to achieve a 5 star HBF Award.
Builders Cleaning Reviews.
Why not take a look at our recent reviews provided from site managers and sales advisors. As well as the continued long term partnerships that we maintain you can see that we are dedicated to ensuring we deliver on what we promise.
Trust in Proclene
I am the contracts manager for David Wilson Homes at Rosewood Grange in Gloucester as well as various other sites. I have used other cleaning companies but I can say that Proclene are much better, they complete work to schedule, they always get the job done and they clean to a very high standard. The finished results and the customer service is amazing. Good workers and Good work. I Highly recommend. Trust Proclene.
Date published: 13/02/2020
10
/
10
stars

High Standard of Clean
As the customer care manager for David Wilson Homes at Ladden Garden Village in Yate, I will only use Proclene as I have used other cleaning companies previously, but I can say that the quality Proclene provides is of high standards and beyond comparison. Booking-in is simple with amazing customer service, they complete on schedule and the finished results are amazing.
I Highly recommend Proclene.
Date published: 05/01/2020
10
/
10
stars

Great Service, Fantastic Clean
Being the site manager for David Wilson Homes at Ladden Garden Village in Yate, I will definitely use Proclene again, they provide a much better quality of clean than the other cleaning companies I have used previously, and their customer service is great. The cleans are fantastic for which I give 10+ for. They complete on schedule and the finished results are amazing.
I Highly recommend Proclene.
Date published: 10/01/2020
10
/
10
stars

Want to see more reviews then please drop us a line and we will arrange to send you some via email
All reviews below can be proven that they are Genuine.
Carpet and Upholstery Cleaning Testimonial Ratings:
10
out of
10
based on
5013
testimonials
Whole house Carpet Cleaning
It is rare that a company meets all of their claimed performances, but in the case of Proclene every word is true. The service was worth every penny, the finished results were amazing 10+, the customer service was also 10+ amazing. I highly recommend Proclene and will only use Proclene for our carpet and upholstery cleaning needs from now on. A reputable company that arrives on time and gives you clear and honest expectations and delivers exactly what they promise.
Date published: 7/11/2022
Wool Carpet Cleaning
Proclene were recommended to me by my daughter. Our carpets were very stained but Proclene have made them come up lovely. I would highly recommend Proclene and I will definitely use them again. They arrived on time, gave a clear and honest indication of what I should expect and delivered on their promise. I felt safe using them and consider Proclene a reputable company. Customer service and finished results were excellent, 10 out of 10.
Date published: 31/10/2022