Professional Carpet Cleaning Kemble.
We been Professional Carpet and Upholstery Cleaners in Kemble since 1982, in fact Proclene are approved and highly recommended Master Carpet Cleaners in Kemble.
Trusted, Approved and Award Winning Carpet Cleaners
Proclene were recognised by Which? and issued with their Which? Trusted Trader of the Month award. We achieved the award because we put our customers first, always ensuring the very best standards of carpet cleaning and excellent customer service.
Proclene also received an award from Trading Standards for exactly the same reasons.
We were also shortlisted down to 4 from over 8500 other companies for the highly regarded Which? Awards in 2017.
ISO 9001 and 14001 Accredited Carpet Cleaners.
Proclene are the only ISO 9001:2015 Accredited carpet cleaning company in Gloucestershire and Swindon, this ensures that you will get the very best in customer service and the highest level of quality carpet cleaning at all times, we are also the only ISO 14001:2015 Accredited carpet cleaning company in Gloucestershire and Swindon for your assurance that we are doing our very best towards the environment, and for providing the GREENEST carpet cleaning service possible, others say they are Green and Eco Friendly, We PROVE WE ARE!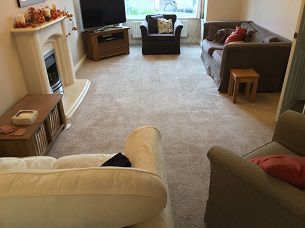 ►Baby and Expectant Mum Safe.
►Pet Safe.
►WoolSafe™.
►Non-hazardous.
►Environmentally Safe.
►Manufacturer Recommended.
►No Rapid Re-soiling.
►FAST DRYING.
Being professional carpet cleaners in Kemble and throughout Gloucestershire and Malmesbury since 1982, we have amassed a wealth of knowledge which enables us to remove 99% of spots and stains successfully without the use of harsh cleaning agents, we are also experts at destroying odours and bacteria, in fact we can destroy 99.999% of bacteria.
We guarantee the deepest clean that your carpets will,
Look amazing.
Smell clean.
Feel luxurious.
Dry quickly.
Stay Cleaner far Longer.
Lasts Longer.
We remove more dirt, soil, spots, stains, odours and bacteria from carpet and upholstery than any other carpet cleaners in Kemble.
Which

?

Recommended Carpet Cleaners in Kemble.

Proclene carpet and upholstery cleaning services are fully Approved and Recommended by Which?, something we feel very proud to have earned. We are also approved and recommended by The WoolSafe Organisation, National Carpet Cleaners Association, TrustMark and The Approved Carpet Cleaners Association, but more importantly we are Recommended by ALL our customers.
Stains Removed.
40 years' has taught us how to best deal with spots and stains with a 99% success rate.
We do not make promises of stain removal just for you to engage our services, but what we do promise is our 40 years' of skilled knowledge, and to spend the time that is necessary to deal with them to obtain the very best results.
Colours Revived.
We will restore the colours of your carpet and upholstery to what they should be, this is done by removing the dust, stains and soiling that is making your sofa or carpet look dull and restoring the pH levels which also in turn restores colours.
Appearance Renewed.
By removing the dust, restoring the pH levels, removing spots and stains and conditioning the fibres your carpet or sofa will look fantastic.
Odours Removed
When an item is cleaned thoroughly odours improve due to the fact the offending smell has been rinsed away but this is only a small temporary improvement, however, when we clean we use an anti-bacterial and anti-microbial treatment to destroy the offending germ that is causing the odour and this continues to work long after which is much better than steam alone.
Softness
During our cleaning process, whether we are cleaning your carpet or cleaning your upholstery, we remove the dust, grit and sticky residues that stiffen and make the fibres feel course and hard. We also condition the fibres which balances the pH levels and increases the luxurious feel of them.
Your carpet or upholstery will feel soft, look fantastic and smell great!
Shortest Drying Times.
40 years' of experience as taught us, not to falsely claim to have your carpets dry within 30 minutes or an hour as every carpet or upholstery fibre dries at different rates and is also dependent upon room temperatures and humidity levels.
Proclene have 40 years' experience and skill to know how to, regulate the balance of water,
cleaning solutions and techniques to ensure that we clean, to the bottom of the pile on carpets without penetrating the backing or worse still the underlay.
With upholstery we use a unique tool that thoroughly cleans the wrapping fabric without wetting the filling ensuring that fastest possible drying times.
With the right tools, our experience and our skills we guarantee that, we can provide you with the shortest drying times that can be achieved.
When you use Proclene to clean your carpet and upholstery you are using a reputable, respected, highly regarded and highly recommended carpet and upholstery cleaning company.
The Benefits of using Proclene the Carpet Cleaners.
Proclene want you to be more that just satisfied, we go to great lengths to provide you with, the very best experience you will ever have with a Carpet and Upholstery Cleaning company.
We are solely professional carpet, upholstery, drapery and mattress cleaners, ensuring our skills are concentrated and not diluted to other trades.
Trained and Vetted
To ensure our continued ability to provide you with the very best possible results, we undertake regular training courses to learn about new techniques, cleaning solutions and tools, we also take regular examinations to ensure we are knowledgeable of all textiles and the correct cleaning of them. This is how continue to provide you with a service and quality that you should expect.
For more detailed information, please see our why use Proclene page
Once you have used Proclene for your carpet cleaning or upholstery cleaning you will understand why we are recommended by our customers.
Proclene Carpet Cleaning Video
Please watch the whole video to see how we clean carpets and restore them without using harmful chemicals and still provide you with the very ultimate in carpet cleaning that dries quickly and stays cleaner for far longer.
Carpet Restoration Cleaning Video
-
A video showing Proclene deep cleaning an old dirty carpet and restoring it to look almost like new.
All reviews below can be proven that they are Genuine.
Carpet and Upholstery Cleaning Testimonial Ratings:
10
out of
10
based on
4199
testimonials
Rug and Carpet Cleaning Cirencester
As a returning customer of Proclene we can say that they are worth every penny, and we will definitely use them again. Greg was excellent and he provided excellent results, he worked hard, was very careful, and thorough, we are very pleased with the finished results, which were exactly as promised prior to starting. Proclene are trustworthy, careful, thorough and reliable. The customer care and service was also excellent. A reputable carpet cleaning company that we will definitely use again.
Date published: 04/11/2020
10
/
10
stars

Upholstery, Rug and Carpet Cleaning
These are people you can trust. We used Proclene to clean our carpets, upholstery and rugs, as well as stain removal and apply stain protection. The results were excellent, the customer service was excellent and there was always someone at the end of the phone. They arrived on time, gave a clear and honest indication of results I should expect and delivered exactly as they promised. We would use Proclene again, Greg was excellent.
Date published: 08/10/2020
10
/
10
stars