What we use to clean your carpets.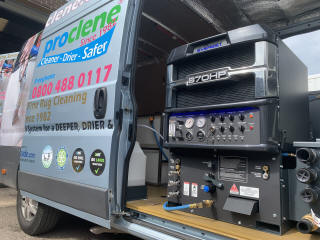 We only use the very best carpet cleaning machines in the world. They are the very latest and most efficient cleaning machines available. They are known as van mounted carpet cleaners. We chose the Everest 870hp so that we are able to clean deeper, and provide you with the fastest drying carpet cleaning service you will ever receive.
We are the only carpet cleaning company in the UK to own this machine. We are also the only company that can guarantee that we will have your carpets dry 80% faster than any other company in England.
We supply all the water and take the dirty waste water away with us, and dispose of it correctly.
Not only do we use these systems, we are fully trained in how to use them, the same goes for the cleaning solutions we use. This is the most important thing in carpet & upholstery cleaning as incorrect use of machines and cleaning solutions will almost certainly result in fibre & dye damage.
Every carpet cleaning, upholstery cleaning and rug cleaning task requires using different techniques, tools and cleaning solutions to be used, that is why we carry many tools and a lot of different cleaning solutions, ensuring that we are able to carry-out stain removal successfully.
We are continually investing the latest technology and item specific tools and never generic tools that can cause damage and prolonged drying times.
Cleaning Solutions
At Proclene we use the very best and safest cleaning solutions that are available, we are always up to date with the latest and best solutions and we know how to use them effectively and safely.
We prefer to use Eco-Friendly solutions that are safe for Babies, Pets, Wool and for the environment.
We never use solutions from companies that do not put them through stringent testing, this way we know that they are safe for you, your children, your pets and on your fabrics.
We Never use solutions because they are cheap, we only use quality solutions that give the best results and ones that are safe.
Carpet & Upholstery Cleaning Review Ratings:
10
out of
10
based on
4196
reviews
Rug & Carpet Cleaning
After using Proclene I would not try another carpet cleaner. Which? gave them the name of Trusted Trader and this was quite right. They gave an honest and clear indication of results that should be expected and delivered them. I have used other companies previously but Proclene are beyond comparison because of the excellent technician. I never expected the customer service to be this good, good cleaning, courteous and excellent admin. I also never expected the cleaning to be this good, with 6 dogs I never expected the carpets to get clean again. As far as I am concerned I would change nothing to make my experience of using them any better. A reputable company whom I felt safe using and they arrived on time. Highly recommend.
Date published: 05/03/2020
10
/
10
stars

Upholstery Cleaning
Proclene are a very professional company, very prompt and deliver the results that they say they can. We used Proclene because of their good reviews and they are used by the company that I work for. They gave a clear and honest indication of the results that we should expect before starting work and they delivered exactly what they said they would. The finished results were excellent, the customer service was also excellent, very courteous and polite. We have used other carpet cleaners in the past but Proclene provided a better clean all round, beyond comparison and worth every penny. We will only use Proclene in future, Highly recommend
Carpet & Upholstery Cleaning
Date published: 11/02/2020
10
/
10
stars