Professional Carpet Cleaning Gloucestershire.
Proclene are professional Carpet Cleaners operating throughout Gloucestershire providing both domestic & commercial carpet cleaning services. We have been cleaning carpets since 1982, and we always guarantee to provide you with the finest results and unprecedented customer service.
If you are in need of the highest quality carpet cleaning then Proclene guarantees that you will receive exactly that, and more.
Award Winning Carpet Cleaning
We are the very first Trading Standards Approved Award Winners in April 2018 and feel extremely proud knowing that we are doing things right by our customers.
We were shortlisted for the Which? Awards 2017 in the category of Trusted Traders. Obviously it goes without saying that we would not have achieved this without the skills and care of our carpet & upholstery cleaning technicians, and our customers who take the time to provide Which? with their reviews.
Customer Focused.
Being a customer focused carpet cleaning business, we have earned an amazing reputation for providing the finest carpet cleaning services throughout Gloucestershire and for providing the most customer friendly service you could imagine, achieving us ISO 9001 certification.
We are in-fact the only ISO 9001:2015 Certified carpet cleaning company in Gloucestershire, this ensures that you receive our consistently high standards in customer service & high quality standards of carpet and upholstery cleaning at all times.
Eco Friendly Carpet Cleaners.
Proclene are the only ISO 14001:2015 (GREEN) Certified carpet cleaning company in Gloucestershire, and this is for your assurance that we are doing our very best towards helping to protect & improve our environment, by providing the GREENEST carpet cleaning service possible, other companies say they provide Eco friendly carpet cleaning, we actual prove that we provide a genuine Eco clean.
Approved Carpet Cleaners in Gloucestershire
We are Trading Standards Approved, NCCA Advanced carpet cleaners, NCCA Advanced Spot & Stain Removal Specialists, NCCA Qualified & Certified, WoolSafe Approved Carpet cleaners, and Carpet & Rug Institute Approved Carpet & Rug Cleaners, as well as being Certified & Recommended by them. On top of that we are also TrustMark certified working to Government Endorsed Standards, ISO 9001 Certified & ISO 14001 Certified, working to the latest 2015 published standards.
Proclene work beyond the highest level of standards set down by the British Standards institute in the form of PAS 86:2008, we also work beyond the WoolSafe Standard WS2000. We have also earned the enviable ISO 9001 & ISO 14001 standards certification.
What does this mean to you?, well in basic terms when you use Proclene for carpet cleaning and upholstery cleaning you will be guaranteed the very best level of customer service & the highest level of customer satisfaction.
Clean, Fresh & Safe Carpets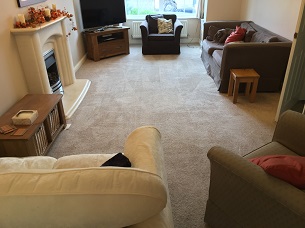 We will always leave you with clean carpets that according to 100% of our customers look great, smell fresh & feel fantastic, They will also be free from stains, bacteria and odours. No one understands carpet better, it's what we have been doing for over 35 years.
All cleaning is carried out using the same anti-microbial treatments we use in doctors surgeries ensuring you are left with safe & healthy carpets.
Which? Recommended Carpet Cleaners
Proclene carpet cleaning services are fully endorsed by Which? and we feel very proud to have earned their famous Approved by Which? logo. We work very closely with our customers to ensure we meet and exceed all of your requirements and leave you, not just satisfied but hopefully astonished at how well we treat you, and how well we clean carpets, we believe that you too will feel that we have earned the Which? Approval.
We are also approved and recommended by The WoolSafe Organisation & The Approved Carpet Cleaners Association and of course more importantly we are Recommended by ALL our customers, why not join them and be one of our new clients who are proud to recommend Proclene.
Baby Safe Carpet Cleaning.
When we clean your carpets, not only do we use genuine baby safe & pet safe cleaning solutions, we will deep clean your carpets and sanitise them with anti-microbial treatments to destroy harmful and dangerous bacteria's, we will also destroy the bacteria that cause odours and sickness in fact we even destroy MRSA, e-coli & salmonella amongst others. You can be sure that your carpets are fully sanitised & safe when we clean them. All this at no extra cost.
Deep, Fast Dry Carpet Cleaning.
We use the very latest in advanced carpet cleaning machines, and tools which are tailored for each individual task hence we are able to provide you with the very best in results and drying times.
Our experience provides us with the knowledge of correctly regulating the water pressure with the pile depth of your carpets to ensure we do not over wet them also ensuring that they are dry in the fastest possible times.
Before we commence any carpet cleaning we will inspect the carpets and we will clearly explain to you what you can expect, including removal of stains and exact drying times, we have even managed to reduce drying times by at least 30%, and if you take our competitors drying times we have reduced it by at least 50%.
Deepest & Fastest Drying Carpet Cleaning.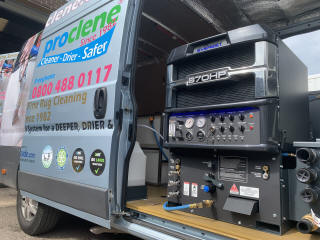 We are the only company in the Gloucestershire to use the most powerful carpet cleaning machine in the world, with 870 CFM (airflow speed) and 13hg (suction lift) which is at least double if not quadruple that of what other carpet cleaning companies use in Europe.
Whilst our machines provide the fastest drying times and the heat to deal with most spots and stains, it is our experience of cleaning carpets throughout Gloucestershire that takes care of the rest. With over 35 years experience Proclene really do have the skills & knowledge to correctly & safely clean your carpets, rugs and upholstery.
Safe Carpet Cleaning
Proclene know how to control the temperature & water pressure for the many different types of fibres & construction types, as well as the type of backing that your carpets and upholstery may have, we ensure that we do not over wet them, shrink them or delaminate them.
Combine our experience with our machines and we guarantee that we will remove more soil, more spots & stains, and much more water, yes! we guarantee you the most thoroughly cleaned carpets throughout Gloucestershire, and the fastest drying times, carpets that are ready to use in minutes, not hours and definitely not days.
We invest heavily to provide you with a much better experience and the least inconvenience.
We guarantee that you will be left with sanitised carpets that are also 100% safe for you, your family and your pets.
With our experience & our specialist tools, we know we will provide you the very best results possible, after all we are Professional Carpet Cleaners with over 35 years experience.
Proclene Carpet Cleaning Video
Here is a brief video so that you can see how we clean & restore carpets, no harmful chemicals whilst still providing the very best results and the fastest drying times, not forgetting that they also stay cleaner for much longer.
Restorative Carpet Cleaning - A Deep carpet cleaning service.
You can find more videos on our video page.
Local Carpet Cleaning Service.
We provide our carpet cleaning services throughout Gloucestershire including Gloucester, Cheltenham, Cirencester, Stroud, Tetbury, Fairford, Stow-on-the-Wold and all other villages and towns in-between.
We guarantee that you will always receive the highest quality clean, and the highest level in customer service from Proclene. And because we clean your carpets properly, you will not need to have them cleaned so often, this is because we remove more soil & do not leave cleaning solutions in the fibres, which means your carpets will stay much cleaner for much longer.
The Proclene Promise
To give you an accurate quotation and abide by the price quoted under all circumstances prior to commencement of work.
To provide you with the very best carpet & upholstery cleaning service with the very least disruption.
To provide you with the very best customer service & experience.
To provide you with a service that includes stain & odour removal at no extra cost.
To sanitise at no extra cost.
To give you true drying times and not to make false claims.
To be reliable & punctual.
Never to try to sell you anything.
To make your experience with us pleasant & satisfying
To provide you with all forms for reviewing our work.
Outstanding Customer Reviews
We pride ourselves on what we do, what we know, our standard of service and what our customers say about us.
Carpet & Upholstery Cleaning Review Ratings:
10
out of
10
based on
4196
reviews
Rug & Carpet Cleaning
After using Proclene I would not try another carpet cleaner. Which? gave them the name of Trusted Trader and this was quite right. They gave an honest and clear indication of results that should be expected and delivered them. I have used other companies previously but Proclene are beyond comparison because of the excellent technician. I never expected the customer service to be this good, good cleaning, courteous and excellent admin. I also never expected the cleaning to be this good, with 6 dogs I never expected the carpets to get clean again. As far as I am concerned I would change nothing to make my experience of using them any better. A reputable company whom I felt safe using and they arrived on time. Highly recommend.
Date published: 05/02/2020
10
/
10
stars

Upholstery Cleaning
Proclene are a very professional company, very prompt and deliver the results that they say they can. We used Proclene because of their good reviews and they are used by the company that I work for. They gave a clear and honest indication of the results that we should expect before starting work and they delivered exactly what they said they would. The finished results were excellent, the customer service was also excellent, very courteous and polite. We have used other carpet cleaners in the past but Proclene provided a better clean all round, beyond comparison and worth every penny. We will only use Proclene in future, Highly recommend
Carpet & Upholstery Cleaning
Date published: 11/01/2019
10
/
10
stars