Superior Carpet and Upholstery Cleaning throughout Oxfordshire.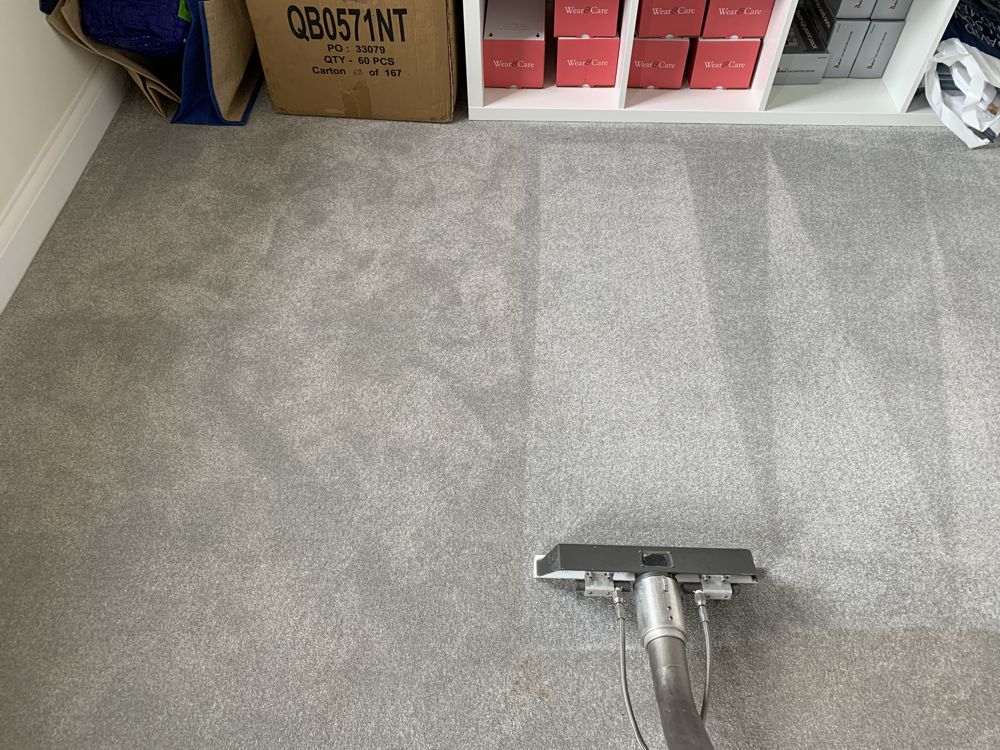 Proclene Carpet and Upholstery Cleaning Oxfordshire, we are recommended Carpet and Upholstery Cleaners in Oxford, Bicester, Witney and Chipping Norton as well as all other towns and villages throughout Oxfordshire. We have been providing our services to domestic and commercial customers since 1982.
Proclene Limited are now celebrating 40 years' of professional carpet and upholstery cleaning. We provide a thorough and professional service carried out by trusted and endorsed technicians. All technicians are employed by Proclene Limited, with 80% being family.
We are not a network of carpet cleaners who sub-contract to other companies, so if you book Proclene then it will be Proclene that carries out the cleaning.
We are Trading Standards Approved, NCCA Advanced carpet and upholstery cleaners, NCCA Advanced Spot and Stain Removal Specialists, NCCA Qualified and Certified, WoolSafe Approved Carpet cleaners, and Carpet and Rug Institute Approved Carpet and Rug Cleaners, as well as being Certified and Recommended by them. On top of that we are also TrustMark certified working to Government Endorsed Standards, ISO 9001 Certified and ISO 14001 Certified, working to the latest 2015 published standards.
Multi-Award Winning Carpet Cleaners Oxfordshire.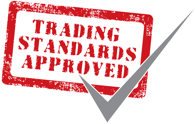 Proclene carpet and upholstery cleaning services in Oxfordshire have achieved awards from Which? for Trader of the Month for providing, in their words "Outstanding customer service". In 2017 we we're shortlisted for the prestigious Which? Awards, and then in 2018 we achieved the Trading Standards first ever Award. Being fully endorsed by Which? and approved by Trading Standards, plus being recommended by our customers means a great deal to us and our customers
Triple Rinse™ Carpet Cleaning.
Have you noticed that after you have had your carpets or sofa cleaned in the past that they tend to get dirty again very quickly, well this is because there are cleaning solutions still in the fibres and even a drop of water can make that spot appear dark, it's not the water, it's the soap that has reactivated and become sticky, making every little speck of dust that comes into contact with it stick to it, resulting in dark spots. When Proclene clean your carpets this won't happen.
Unique to Proclene, we don't just do a single pass extraction, we go, not 1 step further but 2 steps further, because Carpet fibres and upholstery fabrics are like sponges they absorb the cleaning solutions making it difficult to remove, but by using our Triple Rinse™ system we remove not just most of the cleaning solution, but all of it. This means that your carpets and upholstery are going to stay much cleaner for much, much longer.
Baby Safe Carpet Cleaning.
When we clean your carpets and upholstery, we will only use genuine baby safe and pet safe cleaning solutions that are also confirmed and approved by Which? as being baby safe, not only that, we also sanitise with anti-microbials to destroy germs, bacteria and viruses.
You can be sure that you will be provided with, the safest carpet and upholstery cleaning service throughout Oxfordshire that you could ever receive.
Sanitised Carpet Cleaning.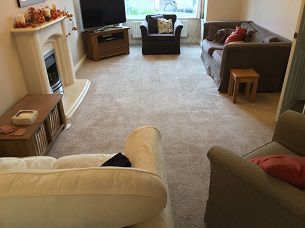 We are also experts at destroying odours and bacteria, in fact we can destroy 99.999% of bacteria as standard as we include free antimicrobial treatments, this is instead of relying solely on hot water.
All carpets will be fully sanitised, creating a much healthier home for you and your family, by not only destroying bacteria, removing soil and dust particles, but by also removing dust-mites and their faeces, which will have a significant improvement for anyone that suffers with asthma or dust allergies.
Our treatments are effective against MRSA, Norovirus, as well as E-coli, so you can be sure that your carpets will be left in a safe and clean condition. All part of the Proclene service.
Phenomenally Fast Dry Carpet Cleaning.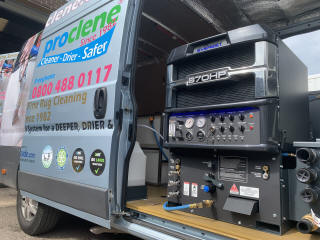 We use the most powerful truck-mounted carpet cleaning machines in the UK, our machine generates 870 CFM compared to 205 CFM (mostly used by budget carpet cleaning companies), this makes our machines 4 times more powerful than that of our competitors who use truck-mounted carpet cleaners, and at least 8 times more than those who use portable machines. It's no wonder that we achieve a much deeper clean that dries phenomenally faster than any of our competitors.
We remove more soil from deeper within and much more water, it's by far a more superior clean and more environmentally-friendly, using 40% less water, 23% less emissions and much less chemicals
Combining the power of our machines with our skills and knowledge and investing in the right tools we guarantee you will not get a better, safer more thorough clean. Power without knowledge and understanding is a combination that can lead to disaster, fortunately Proclene have 40 years' experience and skill to know how to regulate the perfect balance of water, cleaning solutions and techniques to ensure that we clean to the bottom of the pile without penetrating the backing, or worse still the underlay. This is why Proclene will provide you with the most phenomenal carpet cleaning results and the fastest drying times in Oxfordshire, and in most cases your carpets are dry in less than 1 hour.
With upholstery cleaning we use a unique tool that thoroughly cleans the wrapping fabric without getting the filling wet, this provides the fastest possible drying times, and produces astonishing results.
We guarantee the deepest clean that lasts longer, looks amazing, smells great and feels fantastic, and dries fast, whilst also maintaining your warranty and increasing its life expectancy
We will also have your carpet or sofa back in use in the shortest time possible.
Proclene Carpet Cleaning Video
Here is a brief video so that you can see how we clean and restore carpets, no harmful chemicals whilst still providing the very best results and the fastest drying times, not forgetting that they also stay cleaner for much longer.
Restorative Carpet Cleaning - A Deep carpet cleaning service.
You can find more videos on our video page.
Approved Carpet Cleaners Oxford
The National Carpet Cleaners Association - We are NCCA ADVANCED carpet and upholstery cleaners, and ADVANCED Spot and Stain Removal Specialists in Oxfordshire, as well as being NCCA Qualified, Certified and Approved. This is your assurance that we are also professionally trained and have adequate insurances to clean your items.

WoolSafe Approved Carpet and upholstery cleaners in Oxfordshire, and we are also approved by the Carpet and Rug Institute, as well as being Certified and Recommended by them. Wool carpets need to be cleaned using safe for wool cleaning solutions, and they need to be cleaned differently to synthetic carpets to avoid serious damage, and even ill health from the the growth of mould.

Guild of Master Craftsmen Accredited Carpet and upholstery cleaners in Oxfordshire, you can be assured that you will receive high quality workmanship. The Guild of Master Craftsmen is the sign of Quality, something that you will always receive when you use Proclene for your carpet, upholstery and fine rug cleaning. Don't just take our word for it, with thousands of reviews, and our accreditations you don't need to.

As members of BICS the British Institute of Cleaning Science you can be sure that we are at the forefront of advanced cleaning processes and cleaning chemicals. This ensures that we can provide you with continued high standards.

We are Trading Standards Approved and Vetted carpet and upholstery cleaners in Oxfordshire so that you can buy with confidence, they monitor our customer service, and ensure that we are qualified and insured, they also check references and reviews to ensure that they are genuine.
With Bait and Switch still highly prevalent it's your assurance that we are a fair, honest and reliable company that truly care about customers as well as our reputation.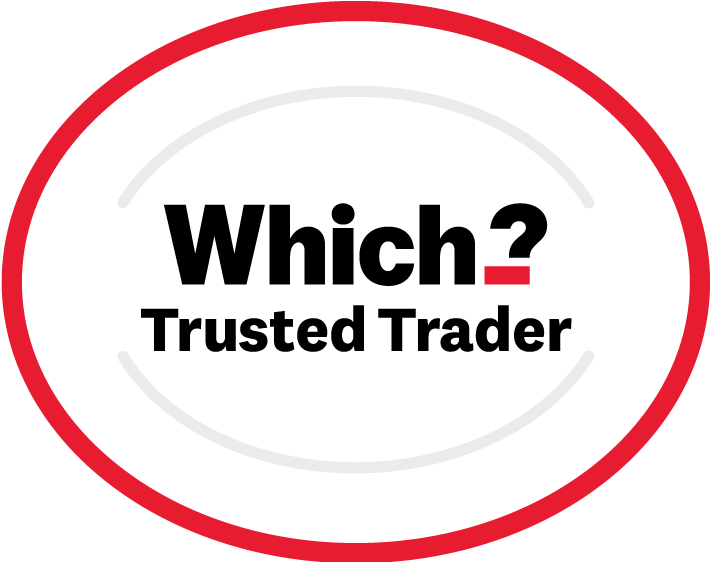 Our carpet cleaning services are fully endorsed and approved by Which? Trusted Traders for carpet cleaning in Oxfordshire. Again, we are vetted, continually monitored and audited annually, this ensures that we maintain our customer satisfaction and do not become complacent with our quality or customer care. All reviews are double-checked to ensure they are genuine and authentic.

Our carpet cleaning services in Oxfordshire are Recommended, Vetted and Monitored by CheckaTrade.com, and with hundreds of reviews and an average rating of virtually 10/10, you can rest assured in knowing that we will provide you with the very best in customer service, quality, reliability as well as being tidy. We won't let you down.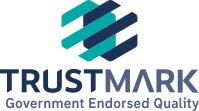 TrustMark certified working to Government Endorsed Standards and your assurance that we have been vetted and inspected as well as having adequate insurance in place. You can also review our work with them which will help others make an informed decision.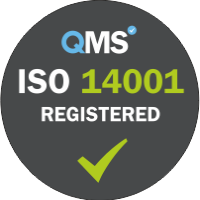 We are ISO 14001 (Environmentally Friendly) Certified carpet cleaners in Oxfordshire working to the latest 2015 published standards. This is your assurance that we are doing everything we can to reduce our impact on the environment, which starts with us using Eco-friendly cleaning solutions, as well as equipment and vehicles. Other companies say they are eco friendly we prove we are.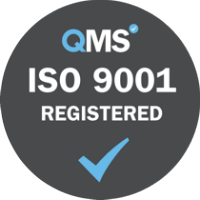 We are ISO 9001 certified carpet cleaners in Oxfordshire working to our own strict guidelines in customer care and quality of work, ensuring that we maintain high standards of work and customer care at all times, from first contact with us to long after we have cleaned your carpets.
Proclene Carpet Cleaning Video
Here is a brief video so that you can see how we clean and restore carpets, no harmful chemicals whilst still providing the very best results and the fastest drying times, not forgetting that they also stay cleaner for much longer.
Carpet Steam Cleaning - Deepest carpet cleaning service.
Trained and Vetted
To ensure our continued ability to provide you with the very best results, we undertake regular training courses to learn about new techniques, cleaning solutions and tools, we also undertake regular examinations to ensure we are knowledgeable of all textiles and the correct cleaning of them. This is how we continue to provide you with a service and quality that you should expect from any carpet cleaning professional.
We are vetted by Which?, Trading Standards and TrustMark annually for your assurance that we are a legitimate, honest and a reputable company, after all we are working inside of your home, so you should accept no less.
The Benefits of using Proclene the Carpet Cleaners.
Proclene want you to be more than just satisfied, we will go to great lengths to provide you with the very best experience that you will ever receive from any Carpet and Upholstery Cleaning company in Oxford, Witney, Abingdon, Burford, in fact the whole of Oxfordshire
We are solely professional carpet, upholstery, and fine rug cleaners, ensuring our skills and investments are concentrated and not diluted to other trades.
Guaranteed - 100%
Accurate Quotations
Results as Promised
Furniture moved
Experienced - 40 years'
Customer Service - ISO 9001
Fast Drying - Guaranteed
Stain Removal Included
Sanitising Included
Eco Friendly - ISO 14001
Industry approved solutions
Baby Safe
Child Safe
Pet Safe
Longest Lasting Clean - GUARANTEED
Manufacturer Approved Process
Punctual and Reliable
Reputable and Trustworthy
Vetted
Same Day Service Available
Weekend Service Available
Pay by Card
Pay by AMEX
Fair and Honest Prices
FREE Advice
Printed and Detailed Receipt
Rapid Re-soiling
Sticky Residue
Surcharges for stains
Estimated Price
Harmful Chemicals
Grey marks Appearing
Days to dry
Bait and Switch
For more detailed information, please see our why use us page.
The quality of our work, that has derived from 40 years' experience as carpet and upholstery cleaners in Oxford, Bicester, Witney, Burford and Chipping Norton and with continued investments in the latest technology, and our continued training this ensures we continue to provide results that will amaze you.
Once you have used Proclene for your carpet cleaning or upholstery cleaning in Oxfordshire you will understand why we are recommended by our customers.
All reviews below can be proven that they are Genuine.
Carpet and Upholstery Cleaning Testimonial Ratings:
10
out of
10
based on
5013
testimonials
Whole house Carpet Cleaning
It is rare that a company meets all of their claimed performances, but in the case of Proclene every word is true. The service was worth every penny, the finished results were amazing 10+, the customer service was also 10+ amazing. I highly recommend Proclene and will only use Proclene for our carpet and upholstery cleaning needs from now on. A reputable company that arrives on time and gives you clear and honest expectations and delivers exactly what they promise.
Carpet Cleaning in Oxford
Date published: 7/11/2022
Wool Carpet Cleaning in Oxford
Proclene were recommended to me by my daughter. Our carpets were very stained but Proclene have made them come up lovely. I would highly recommend Proclene and I will definitely use them again. They arrived on time, gave a clear and honest indication of what I should expect and delivered on their promise. I felt safe using them and consider Proclene a reputable company. Customer service and finished results were excellent, 10 out of 10.
Date published: 31/10/2022