Carpet & Upholstery Stain Protection.
Proclene have 35 years expert knowledge & professional experience in carpet & upholstery stain protection application, and this is important, because if stain protection is not applied correctly it will not work, it won't protect for the length of time it should and worse still, if the wrong type of stain protector is applied it will destroy the whole look of your upholstery or carpet.
It is extremely important that, when stain protection is being applied, that it is the correct type of protector, and that it is applied with the correct type of sprayer, the correct flow and the correct coverage. Proclene will use the correct type of protection that is best suited and totally safe for the carpet or upholstery items that we are applying the stain protection to, and we will apply it correctly, ensuring maximum protection for the maximum length of time.
Proclene also work with manufactures & retailers & to provide their end consumers with a stain protection that does actually work.
Proclene offer stain protection services in Gloucestershire, Oxfordshire, Bristol & Bath, Herefordshire, Worcestershire & Swindon.
Stain Protection will provide your carpets & upholstery with an invisible & non-characteristic changing protective barrier to help in preventing spillages from becoming permanent stains.
There are many varieties of stain protection and many names such as ScotchGard or 3M, Dupont, Stain Shield, Staingard and many more. Our stain protection of choice is Triple Protect Ag+.

Triple Protect Ag+ is a fluorocarbon based formula, it is 100% invisible and will not change the characteristical look or feel of the fibres. it even repels oil based stains as well as water based stains. It will absorb into wool fibres to protect the internal core and encompass the surface of the fibres. This helps in preventing stains and soils from adhering to, or penetrating into the fibres, therefore aiding in successful stain removal.
Triple Protect Ag+ Stain Protection Really Does Work.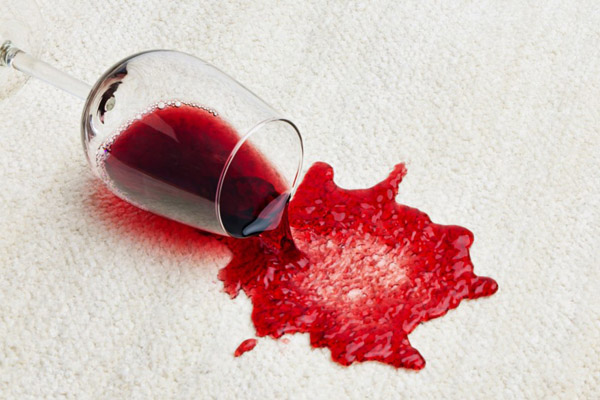 Here at Proclene we don't just take a manufacturers word that it works, we actually test and prove that it really does work before we even consider recommending it to our clients.
Triple Protect Ag+ really does work, we use Triple Protect Ag+ on our own carpets & upholstery, and being a busy household and pet lovers we really do put Triple Protect to the test. With loads of puppy accidents and children (and adults) walking in oils and mud and treading everything in to the carpets, and spilling drinks on the upholstery, we can honestly & confidently recommend Triple Protect Ag+ as doing what it promises, even with spillages that have not been attended to promptly.
Dust Mite Prevention & Anti-allergen Protection.
Triple Protect Ag+ is not just a Stain Protection, it has been combined with Sanitized™ & Biomaster© Scandinavia (derived from Silver-ion (Ag+)) that delivers broad spectrum anti-bacterial and anti-microbial properties.
Santized™ and Biomaster© are highly effective in preventing Dust Mite colonisation and will also prevent the growth of bacteria, mould, fungi & yeast, not only that, it will also prevent unpleasant odours and infections caused by bacterium such as MRSA.
Wool, Cotton, Linen & Viscose Stain Protection.
Proclene highly recommend Triple Protect Ag+ be applied to natural fibres such as wool carpets & rugs, upholstery fabrics that contain cotton, viscose & linen, the reason being is that these fibres will naturally absorb spillages and hold them within, making it difficult to flush the stain out.
By applying Stain Protection, the spillages will have less chance of adhering to the inner cores of the fibres making it much easier to rinse the colours of the spillage out.
Accidents do happen, but they do not have to totally change the way we live in our homes, after all it's our main place to relax, and if we have to think about every action we carry out, because we are more scared of spilling red wine on our off white carpet than seeing the doctor then we are not enjoying our luxuries or comforts in life.
Triple Protect Ag+ protects against stains such as;
Acids
Corrosives
Cosmetics
Paints
Shoe Polish
Ink
Coffee
Ketchup
Red Wine
Caustics
Cola
Human & Animal bodily fluids
Dyes & Dye Transfer from newspaper print & clothing including Denim
All food stuff & Drink
We provide our professional stain protection application service for both domestic & commercial customers throughout Gloucestershire, Oxfordshire, Bristol, Bath, Herefordshire, Worcestershire & Wiltshire.
Please Note: Although these products are all referred to as being Stain protectors, it is not a guarantee that your carpet or sofa will not stain, it is more that it will help by resisting staining and make it much easier to rinse out stains by preventing full adhesion to the fibres, which improves the chances of successful stain removal, and with our experiences they definitely do provide for better results.
Carpet Cleaning, Upholstery Cleaning, Stain Protection.
I would highly recommend Proclene, they provided an excellent service from start to finish. When they arrived they gave a clear and honest indication of the results that I should expect which were in fact very good, the chairs came up really clean and the carpet looks great so 10/10. The customer service was excellent. I could not fault the service so 10+ and highly recommend. They arrived on time, I felt safe using them. A reputable company who I will definitely use again.
Date published: 01/03/2020
10
/
10
stars

Carpet Cleaning, Stain Protection.
Well worth using Proclene, friendly and very helpful & excellent service. I give Proclene 10+ on customer service because they were quick, efficient and very, very helpful, even the after care was excellent. 10+ for results which were very good. I would recommend Proclene 100%, will definitely use again. A safe & reputable company who arrived on time and gave an honest indication of expected results.
Date published: 05/02/2020
10
/
10
stars

Carpet Cleaning, Rug Cleaning, Stain Removal, Stain Protection.
I highly recommend Proclene, their customer service & the results were excellent, 10 out of 10. I have used other carpet cleaning companies in the past but Proclene were much better, they were more expensive but much more professional and thorough., I will definitely use Proclene again because of the excellent service and results. They arrived on time gave a clear and honest indication of what I should expect, I felt safe using them, a reputable company.
Date published: 13/01/2020
10
/
10
stars

Carpet Cleaning, Stain Protection.
Excellent cleaning, very professional, very hard working operative. 10+ for customer service, 10+ for finished results which were excellent and as honestly indicated prior to cleaning. Highly recommend for all the above reasons and I will only use Proclene from now on for the same reasons, felt safe using them, A reputable company
Date published: 08/01/2020
10
/
10
stars

Carpet & Upholstery Cleaning Review Ratings:
10
out of
10
based on
4196
reviews
All reviews below can be proven that they are Genuine.
Rug & Carpet Cleaning
As a returning customer of Proclene we can say that they are worth every penny, and we will definitely use them again. Greg was excellent and he provided excellent results, he worked hard, was very careful, and thorough, we are very pleased with the finished results, which were exactly as promised prior to starting. Proclene are trustworthy, careful, thorough and reliable. The customer care & service was also excellent. A reputable carpet cleaning company that we will definitely use again.
Date published: 04/11/2020
10
/
10
stars

Upholstery, Rug & Carpet Cleaning
These are people you can trust. We used Proclene to clean our carpets, upholstery and rugs, as well as stain removal and apply stain protection. The results were excellent, the customer service was excellent and there was always someone at the end of the phone. They arrived on time, gave a clear and honest indication of results I should expect and delivered exactly as they promised. We would use Proclene again, Greg was excellent.
Date published: 08/10/2020
10
/
10
stars