Multi Award Winning Professional Carpet Cleaning in Cheltenham.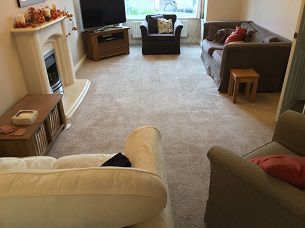 Proclene are the only true solution to your carpet, upholstery, and fine rug cleaning needs throughout Cheltenham, specialising in cleaning, maintaining and restoring wool carpets. We have been Professional Carpet and Upholstery Cleaners in Cheltenham since 1982.
Our exceptionally high-quality cleaning standards, attention to detail and amazing customer service have earned us multiple awards from Which? and Trading Standards due to the reviews they receive from our customers throughout Gloucestershire
Using WoolSafe-approved and tested cleaning products, we protect the integrity of wool carpet fibres and produce a much better clean. We use our Triple Rinse™ process to ensure we don't leave any residue within your carpets. Therefore, they remain looking their best for much longer with a more natural lustre and softness.
We are not just your carpet cleaning specialists but your advisors and consultants. We explain what we do, how we do it and why we do it, providing you with the correct information to make an informed decision.
Whatever your requirements, issues, or concerns, we ensure that we will not just meet them but exceed them. We will deal with your issues and provide the answers to all your concerns and deal with them effectively and efficiently.
We guarantee complete and total customer satisfaction with our notably high standards in quality and delivery of our services, which we know will delight you. Don't just take our word for it; listen to what our customers say about us.
Customers in Cheltenham Recommend Proclene
Proclene are highly recommended and very well favoured by customers in Cheltenham who have used our carpet and upholstery cleaning services, as well as fine rug cleaning. After all, we are highly proficient specialists and experts at cleaning carpets. We guarantee that you will be delighted to recommend us too.
Press the ▶ play button below to listen to what our customers have said, or take a look at our customer review page to view the many handwritten reviews for Proclene in Cheltenham.
Benefits of Using Proclene
Our carpet cleaning technicians in Cheltenham are highly skilled and fully trained specialists. They are advanced master carpet cleaners, advanced stain removal specialists, and more than competent in cleaning your carpets safely and effectively to resolve your issues.
Our carpet cleaning services are proven to be
For your peace of mind we are thoroughly certified and recommended by
We are entirely endorsed and approved by consumer champions and protection specialists
Fastest Drying Carpet Cleaning in Cheltenham.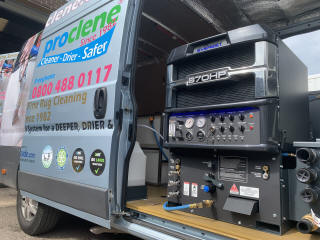 Proclene are the only company in Gloucestershire to use the industry's leading and ultimate van-mounted carpet cleaning machines. Producing an enormous 425% more vacuum power than any other carpet cleaning company in Cheltenham. Generating a phenomenal 870 CFM (airflow speed) and over 13 Hg of water lift, they simply outperform all others.
With more extraction power, more experience, and better training, you will notice the difference in depth and detail of the cleaning and drying times. You will also notice how much longer your carpets remain looking cleaner. In fact, we provide the fastest drying carpet cleaning throughout Cheltenham.
Visit our technical page to better understand our machines, the science and terminology.
How long will carpets take to dry after cleaning?
You can be sure of one thing; we guarantee your carpets dry much faster with Proclene than if you used any of our competitors.
Once we have assessed the items that require cleaning, we will tell you honest and exact drying times based upon;
Construction Method
Pile depth and density
Pile and weave type
They will all play a fundamental role and will affect the drying time, and therefore, drying times will vary from carpet to carpet, but we will be 100% honest with you.
However, as an example, in the summer, you can expect; a short pile, low-density synthetic carpet to be dry within 20 minutes and approximately one hour for an 80% wool carpet. During the winter, we would advise you to expect double those times.
Because of the superior performance of our machines, we easily remove more soil and water from your carpets. Providing phenomenal carpet cleaning with the fastest drying times, especially when combined with our four decades of experience, skills and knowledge. We refuse to be beaten on quality or customer experience.
With over 40 years of experience, we have the skills to finely tune and balance the water pressure and cleaning solutions and use the correct technique. We clean to the bottom of the pile on carpets without penetrating the backing or, even worse, the underlay.

Advanced Stain and Odour Removal.
Proclene are advanced spot, stain and odour removal specialists in Cheltenham. We are best positioned to remove 99% of spots and stains easily without harsh stain removers. The remaining 1% will require our expertise and wealth of knowledge garnered since 1982 to deal with their complexity and stubbornness.
Please note that we cannot guarantee total stain removal; however, we do guarantee to use our 40 years of experience and professional knowledge to achieve the best results.
Proclene includes using powerful anti-bacterial and deodorising treatments to eradicate odours at no extra cost, eliminating bacteria long after we have finished the cleaning. Because carpet steam cleaning doesn't use steam, it doesn't eradicate bacteria; therefore, our processes are more effective at dealing with odours.
We are fully trained and qualified in infection control and bio-hazard fogging. We can destroy 99.999% of the bacteria living in your carpets and upholstery.
Proclene will Refresh your Carpets in Cheltenham.
We refresh your carpets by restoring the colours, and removing any spots, stains, fine dust particles, pet hair, shed skin, and bodily oils. They all prevent the light from reflecting correctly, making your carpets look dull and lacklustre. We will remove sticky residues left behind by previous carpet cleaners or your home remedy stain removal attempts.
During the cleaning process, we apply a mildly acidic fibre conditioning treatment (a sour rinse) to help restore the feeling of soft, smooth fibres and stabilise the pH levels. After resetting the fibres to their natural positions, your carpet and upholstery will look and feel amazing again, with a vibrant, refreshed appearance. They will also smell like a great breath of fresh air.
Restorative Carpet Cleaning
-
This video demonstrates how we clean and restore carpets to look as good as new
You can find more videos on our video page.
Free Carpet Care and Stain Removal Advice.
Proclene customers receive better advice on dealing with spots and stains and maintaining their carpets, extending the time between professional cleans and saving money.
All Proclene customers automatically become part of an elite members-only club giving you priority access to invaluable advice derived from our 40 years of knowledge and skills as professional carpet cleaners, stain removal specialists and carpet retailers. We are better positioned to provide you with that advice.
We are just a phone call away should you need any carpet-related advice such as maintenance, stain removal, or recommendations on replacing them. We really do provide a phenomenal customer experience with increased customer satisfaction.
Our customer relationship doesn't end once we have finished cleaning your carpets; it continues long after.
More reasons to use Proclene.
Proclene will leave you with the Cleanest, Freshest and Softest feeling carpets and upholstery that are free from unsightly stains and dry phenomenally fast. No rapid re-soiling or strange random grey spots appearing from nowhere. They will stay looking much cleaner for much longer, meaning less regular professional cleaning is required, saving you money in the long term.
Wet-cleaned carpets are ready to use in minutes, not hours and not days. Because of the extreme performance of our machines, we easily remove more soil and water from your carpets, providing phenomenal cleaning of soft furnishings and the fastest drying times. We provide unbeatable cleaning with four decades of knowledge, skills, and experience.
In simple terms, the better the machine and tools, and the more knowledge and skills the technician has, the more remarkable the results.
With 40 years of experience, Proclene Carpet Cleaning Cheltenham have the skills and knowledge to correctly and safely clean your carpets without saturating, shrinking, or delaminating them. Our machines provide the power, but the technician's skills take care of things like spots and stains and precisely balance the water temperature and pressure for each carpet type to avoid such issues.
With our experience and specialist tools, we know we will provide you with the best results and the most superior in ultimate cleaning that stays cleaner for much longer.
We guarantee the most phenomenal clean to ensure we leave you with carpets and upholstery that
Look amazing.
Smell fresh.
Feel soft
Dry faster
Stay cleaner for much Longer.
We remove more dirt, soil, spots, stains, odours and bacteria from carpet and upholstery than any other carpet cleaners or upholstery cleaning companies.
With the right tools, experience and skills, we guarantee that we can provide you with the shortest drying times in Cheltenham.
When you choose Proclene for your carpet and upholstery cleaning requirements, you will be employing the services of a highly reputable and respected company whose technicians are highly regarded and highly recommended. Don't just choose anyone; Choose Proclene.
Specialist Upholstery Cleaning in Cheltenham.
Proclene provide a safe, accurate, skilful upholstery cleaning service for cloth fabrics and leather, our experience and skills have matured over 40 years. We continually to invest heavily in the best tools, machines and skills. Proclene Cheltenham work with Ercol, G-Plan, Parker Knoll, Laura Ashley, and Wesley Barrell upholstery, among other names to help maintain their brands.
Please understand that upholstery cleaning is neither a quick nor a cheap service. It takes time, skill and investments to professionally, safely and thoroughly clean soft furnishings. For example, you should expect a traditional style three-piece suite, consisting of a normal-sized 3-seat sofa, a 2-seat sofa and an armchair, to take approximately 7 hours to complete the cleaning. We will use the ultimate and most superior van-mounted machine, allowing us to be more thorough than ever before and provide the most impressive drying times.
If you value your upholstery, we recommend that you only use highly skilled upholstery cleaning specialists who can competently determine the correct technique to implement and take the time to be thorough and safe, someone that will not rush.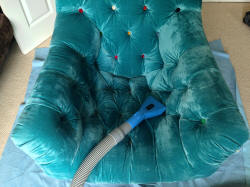 Upholstery cleaning requires special tools designed specifically for the item of soft furnishing requiring the cleaning. If cleaning upholstery with tools unsuitable for the styling or fabric of the upholstery, then damage will likely occur.
Upholstery fabrics are much more delicate than carpet, yet, most professional carpet cleaners use the same generic tools for cleaning upholstery as they do for cleaning stair carpets. They fail to invest in professional and specific tools, damaging the fibre, constructional weaving and over-saturating, allowing mould to form, resulting in nasty odours and damaged material and filling. Mould presents a severe health risk when you are breathing in the spores. Most professional upholstery cleaners will also leave track or tram lines marks that, once dry, will be very prominent, permanent, and unsightly.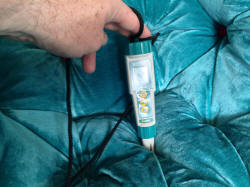 pH Testing
There are thousands of different styles of upholstery fabrics manufactured using various techniques in weaving, fibres, dyes, bonding materials, retardants and paddings, all of which need considering before even starting any cleaning of any soft furnishings. Each one of them will react differently to various cleaning solutions and techniques. Therefore it is essential to test the pH levels to ensure there will be no colour bleed or colour loss and that the dyes either remain pH neutral or mildly acidic to prevent it from happening.
Even more Benefits and Reassurances of using Proclene Cheltenham.
We don't like satisfied customers, only delighted customers.
Proclene and the skilled technicians will go to great lengths to provide you with the very best experience you will ever have of using a professional Carpet and Upholstery Cleaning company in Cheltenham, after all we have been doing this for over 40 years.
TrustMark - Gov. UK Endorsed Standards
Which? Endorsed
Baby Safe
Pet Safe
100% Satisfaction not 99%
Established over 40 years
Guaranteed - Most Thorough Clean
Guaranteed - No Rapid Re-soiling
Guaranteed - Fastest Drying
Free Advanced Stain Removal Included
Free Sanitising Included
Free Deodorising Included
NO HIDDEN CHARGES

Customer Service - Outstanding
Multiple Award-Winning Quality
Multiple Award-Winning Customer Service
Longer Lasting Carpets and Upholstery
Manufacturer Warranty Approved Process
Punctual and Reliable Service
Reputable, Trustworthy and Vetted
Fully Insured
Pay by Card
Total Satisfaction
Free Advice
Printed Detailed Receipt
Trained and Vetted
To ensure our continued ability to provide you with the very best possible results, we undertake regular training courses to learn about new techniques, cleaning solutions and tools, we also take regular examinations to ensure we are knowledgeable of all textiles and the correct cleaning of them. This is how continue to provide you with a service and quality that you should expect.
For more detailed information, please see our why use us page
for more up to date reviews why not take a look at our carpet cleaning reviews page
All reviews below can be proven that they are Genuine.
Carpet and Upholstery Cleaning Testimonial Ratings:
10
out of
10
based on
5013
testimonials
Whole house Carpet Cleaning
It is rare that a company meets all of their claimed performances, but in the case of Proclene every word is true. The service was worth every penny, the finished results were amazing 10+, the customer service was also 10+ amazing. I highly recommend Proclene and will only use Proclene for our carpet and upholstery cleaning needs from now on. A reputable company that arrives on time and gives you clear and honest expectations and delivers exactly what they promise.
Carpet Cleaning in Gloucester
Date published: 7/11/2022
Wool Carpet Cleaning in Gloucester
Proclene were recommended to me by my daughter. Our carpets were very stained but Proclene have made them come up lovely. I would highly recommend Proclene and I will definitely use them again. They arrived on time, gave a clear and honest indication of what I should expect and delivered on their promise. I felt safe using them and consider Proclene a reputable company. Customer service and finished results were excellent, 10 out of 10.
Date published: 31/10/2022